The electronic ordering system
aLaCarte – is a professional approach
to improve guest service
and bring real PROFIT to you
aLaCarte – is a professional approach to improve guest service and bring real PROFIT to you.

You walk to the restaurant table and sit down confidently. You open aLaCarte app on your mobile device to receive a full detailed menu and you will see a list of dishes available with colorful pictures that will fire up your appetite. You will order in a heartbeat without having to wait for someone to take your order. Now you only have to discuss the menu with your companions while they also dive into the menu on their mobile devices.

Orders go straight to the kitchen where they are prepared immediately. You can order your dish the way you want to. For instance, ordering stew without onions or that a steak roasted to your liking.

If you forget anything, you can still tweak your order using the app. No need to call out a waiter. But if you want to do that, just click a button on your smartphone and he/she will be notified right away.

Once your order is ready at the kitchen, the waiter will take it to your table. He/she will be notified to go pick it up from the kitchen. Now you can start eating your meal. And you can even keep on ordering from the app! What do you make of this service? No need to answer – we know you liked it a lot!

Find a restaurant,
Choose a table

Scan the QR code
with your device

Study the menu and
make your order

Kitchen immediately
receives your order

A waiter brings the dish
to your table.
Convenient for guests
|
Easy for staff
|
Profitable for the restaurant
Profitable for the restaurant
Why it is advantageous to order through aLaCarte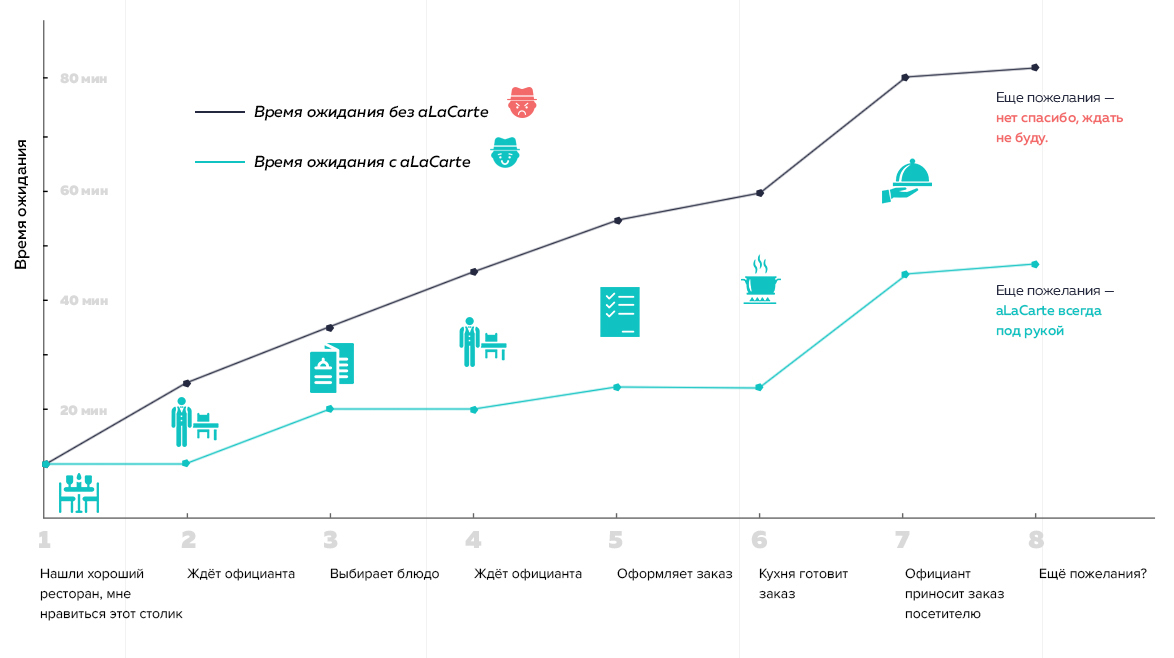 Saves time and makes profit
Do you want to thrill your guests?
Contact us now and start working with aLaCarte!

According to statistics, most restaurants lose their clients because of this long, irritating wait time. Guests wait for the dish to be served and even for asking questions to a waiter. The aLaCarte app will allow you not to lose your guests at all.
To make this happen, place the QR code in a convenient, visible place for your guests so they can scan it, browse the menu and order at any time and as much as they want to. They just need a smartphone or a tablet to receive all the information they might be interested in.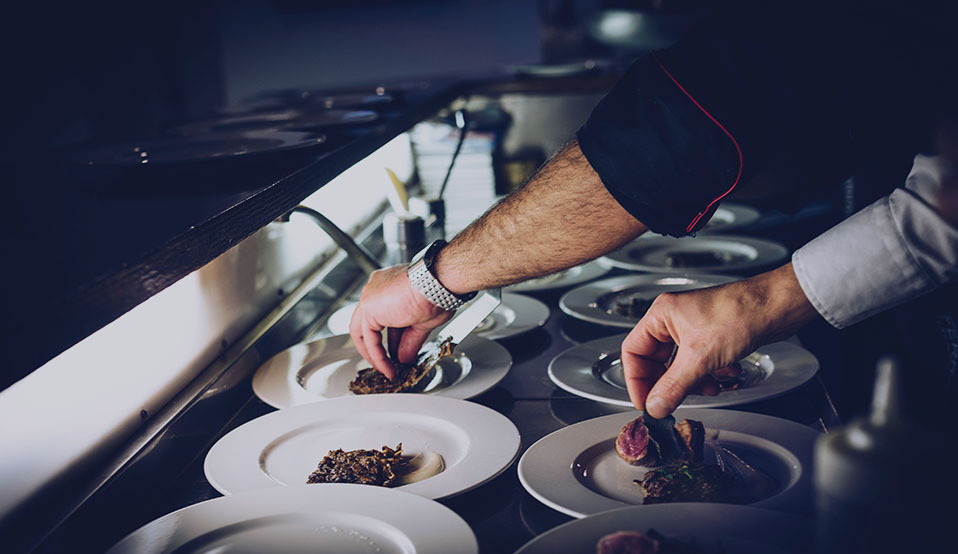 – Upload full descriptions and pictures of your dishes. That will be much easier for your guests to choose from the menu.
– No 'human factor' – Waiters will no longer forget or confuse an order or ignore a guest's demand.
– Cooks see all orders at once, not one after the other with pauses in between. Each second, your guest waits, their satisfaction decreases and keeps them from coming back to your restaurant.
– Make accounting of orders effective; familiarize yourself with feedback and guest's wishes; analyze your menu and work to make your restaurant popular among your guests.
– Use aLaCarte to ease your work; increase your efficacy and profits for restaurants, small cafeterias, food courts, and diners!
Pleasant? Convenient? Fast? Sure!
But what would you receive as a restaurant owner from it?
Advantages of aLaCarte – what you receive:
Happy customers
A new, convenient, and fast system to make orders will surely be appreciated by guests whose time is precious.
Convenient tools
Only a few seconds are enough to input changes. Arrange promo events, experiment, and don't waste your time and money on printing materials.
Decrease waiters' workload
They won't have to worry about serving all guests in a hurry. They will be able to pay more attention to them.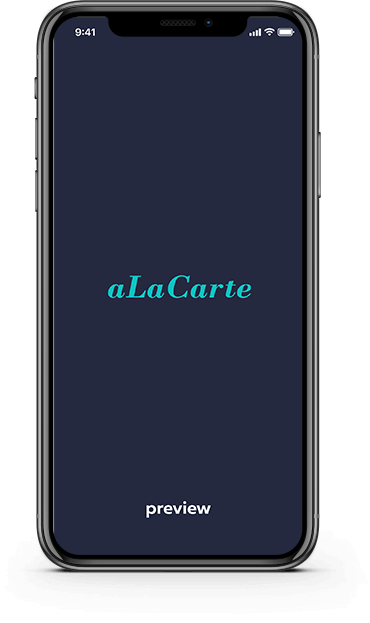 Income growth
Fast order, fast service increases customers' inflow and income.
Lowering expenses on your staff
You won't need to have lots of waiters anymore. Your staff will work in a relaxed working environment without unnecessary hassles.
Feedback
You will have the possibility to familiarize yourself with guests' wishes and demands and analyze your menu and work to keep your guests coming back to your restaurant.
Do you want your restaurant to become more successful with aLaCarte?
Fill out the application right now and start earning more!

A professional approach to your guests that brings real profit to your restaurant business.